Last month, I had the opportunity to attend VALA16 in Melbourne and I capped off my visit down under by seizing the opportunity to attend
ANZREG
(Australia New Zealand Regional Ex Libris Group for users)
seminar
.
I had the opportunity to present and the following is part one of what I presented.
Introduction
One of the biggest news to hit the library automation space in 2015 was
Proquest's acquisition of Ex Libris
.
Obviously this has great implications for academic libraries as both companies own leading library technology software in terms of link resolvers (360link vs SFX/Alma Uresolver), Discovery services (Summon vs Primo) , ILS/Library service platforms (Alma/Voyager/aleph vs Inota) and a host of other library technology systems including recommender systems, digital content management systems, ereading list software etc.
I won't go into the implications of such a move except to mention that Primo's selling point as content netural discovery service is now shot because it is now owned by Proquest which owns plenty of content libraries' subscribe too , as others more qualified have done so.
How things might play out in the discovery space
From the point of view of a academic librarian who has had experience managing and handling Summon and recently Primo, while I recognize that such a merger has disadvantages in terms of fewer choices for libraries and the loss of content neutrality, I admit to salivating at the idea of a discovery service that can draw from the strengths of both Proquest and Ex Libris.
I don't have any insider information on how things will play out, but like many (see above) who have commented it seems very likely that Primo and Summon will eventually merge (though it's unclear about the time scales)
I was toying with a blog post on what I hoped the merger would bring but didn't manage to get it out before Proquest's Ex Libris company officially unveiled their strategy roadmap in 2016.
This webinar that was overwhelmingly subscribed, pretty much fulfilled my wishlist of things that I hoped to see from the merger by bringing the best of both together. But first and overview of changes.
Overview of changes
In brief, Intota work appears to be folded into Alma, as an institution that just switched to Alma, this pleases me of course. Proquest's excellent Knowledge base will be included in Alma and Alma analytics will be boosted with Intota assessment features by bringing in additional sources like Books in Print , Ulrich etc.
While it was predictable that the combined company would favour the well established Alma over the fledgling Intota , it was harder to guess what Ex Libris would do for Summon and Primo. Both are well established services used by hundreds of libraries and were flagship products of Proquest and Ex Libris. We can't have two flagship discovery services right?
Actually we can, as it was announced both are going to be flagship services going forward! You might say Ex Libris is not new to this in their playbook, having supported multiple ILS at the same time. But arguably, front end discovery services are a different animal from ILS - ILS often have unique quirks and are used by library staff who are sensitive to change and are difficult to migrate.
Web scale discovery services are used by front end users and while you can squint and see differences, the big 4 of Summon/Primo/EDS/Worldcat are pretty similar. Various studies have shown users don't seem to see much difference between them, interface wise at least.
Also it makes so much sense for the company to use one combined knowledge base and one unified index for both discovery services which further reduces any difference between Summon and Primo.
As far as I can tell Ex Libris's play based on their road map for the next 2 years is aimed at making the two even more similar, to the point, such that eventually there might be almost no difference between the two.
Let's see shall we what was announced to be coming.
The interface is made similar
Even before the Proquest acquisition of Ex Libris, the latter was making the rounds in conferences like ALA annual showing off the new upcoming Primo interface.
When I first looked at it, it struck me how suspiciously similar it was to Summon except for the facets position. (I was told later that you could swap it to the left with just a click of a button). Could be my bias but on twitter, people agreed it was similar too so it wasn't just me.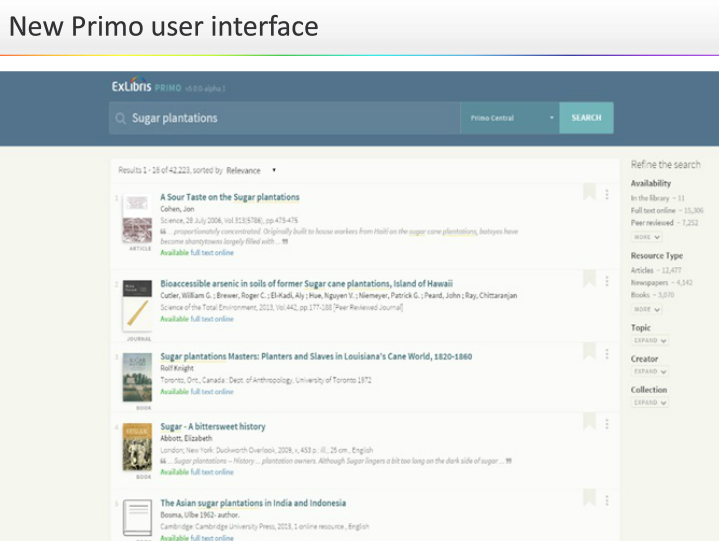 New upcoming - Primo interface
Summon v2.0 UI - example from Arizona State University
Another similarity? Both Summon V2 UI and the new Primo will use AngularJS.
The new Primo interface like Summon is a clean interface with plenty of white space. Options only appear when needed on mouseover. Infinite scroll exactly like in Summon 2.0 is included. A recent talk I attended at VALA16 was one where at Bond University they compared the Summon 2.0 interface with their well customized Primo interface and predictably most users couldn't decide between the two. They did note that infinite scroll in Summon 2.0 was nice and now you can have that in the new upcoming Primo interface too!
Then again it could be just a general convergence since I am noticing many library databases like Scopus, Web of Science have redesigned to have the same clean, "lots of white space, hide details unless needed" aesthetic.
Still there are other similarities. For example, Primo features like
Primo Featured results
+ New Collection Discovery feature one can also duplicate Summon's content spotlighting that allows libraries to visually distinguish valuable content by content type.
The index and knowledge base is equalized
Arguably, discovery services UIs are unlikely to differ too much but it is in the content surfaced that lies competitive advantage and discovery vendors like to distinguish themselves from their competitors by boasting about the quantity and quality of their index.
As already mentioned it was announced the same knowledge base (there's a
new one announced
) and unified index will be used for both Primo and Summon. This is great news for Primo users as I think it is generally acknowledged Summon has a better index and knowledge base inherited from Serialssolutions (that was acquired by Proquest).
Features like Personalization (Primo), article recommendation (BX recommender in primo), Database recommender (Summon), Topic explorer (Summon) are shared
Even the small differences in feature sets between Summon and Primo will diminish.
Primo gets the database recommender and hopefully best bets feature from Summon. In fairness some institutions like mine use the
adwords plugin from the developer network
to achieve the same effect.
Database recommender feature - Summon university of Reading
Summon gets personalization (based on user status and degree) and article recommender (I assume this means if you subscribe to BX recommender the recommendations will appear in the Summon UI).
Primo personalization feature
Primo personalization feature is also available on login selection
Currently Primo libraries that also subscribes to Ex Libris article recommender are able to integrate easily the two. Summon will eventually do the same.
There are also other things mentioned that Primo will get from Summon including "Topic exploration"and "synonym match"
(I suspect that is
Summon's Topic explorer
and
automated query expansion
respectively)
, which are relatively minor features.
Misc & Conclusion
Discovery is closely related to delivery and another change in the works is that
Proquest's IEDL
(index enhanced direct linking) feature now available in Summon and 360 Link v2.0 will come to users who use Primo's Uresolver. (Unclear if it will come to SFX). This is great because IEDL has better link reliability (near 100% reliability claimed but in reality is close to 95-98%) compared to just openURL (which have error rates as high as 30%).
Add the fact that will 2017 onwards users of Alma can choose between Summon or Primo as their discovery solution, and assuming all the announced features are successfully implemented one wonders if there is really going to be any significant difference between the two.
In part (II), I argue that there is in fact a couple of differences between Primo and Summon that still remain (as far as I know) that might have significant impact on the decision to go for one or another.